Volkswagen introduces electric mobility to South Africa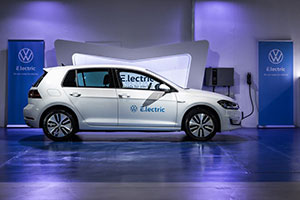 With the launch of the e-Golf pilot project in South Africa, Volkswagen has taken the first step in its journey towards electric mobility.

The e-Golf pilot project will have 6 fully electric vehicles being tested and verified by motoring and lifestyle media, selected dealers as well as Volkswagen employees in a determination to achieve valuable consumer insights into the varying experiences of driving and living with an electric vehicle in South Africa.

Sales and marketing director Mike Glendinning, Volkswagen Group South Africa, said, "At Volkswagen, we want to democratize electric mobility and therefore the e-Golf pilot project is a vital initiative for the brand. With the support of our dealers, we look forward to get as many South Africans as possible to drive and experience an electric vehicle as this is the future of our brand".

Through the contribution of carefully chosen Volkswagen dealers in Gauteng and Western Cape, the e-Golf pilot project pursues to drive customer awareness and education concerning electric vehicles. The e-Golfs will also be used as shuttles and courtesy cars for Volkswagen customers. The e-Golf pilot project also comprises of charging infrastructure, which will be set up in Volkswagen's Uitenhage manufacturing plant and as well as the Dealer Training Academy in Centurion, Gauteng.

The e-Golf pilot project is the first step of a three-phase approach which will flag the way for Volkswagen to include electric vehicles in its future product portfolio in South Africa. The second phase will be extended to include a fleet of fully electric Volkswagen ID.3 vehicles from 2021.

The third and the last phase of the electric mobility project will see the first fully-electric Volkswagen vehicles available for sale to customers in South Africa from 2022.

The e-Golf as well as the ID.3 will not be available for sale in South Africa and will be used exclusively for the purposes of guaranteeing as many South Africans as possible get to experience life with an electric vehicle.
Posted on : 19 Sep,2021 | News Source : www.adhd.com
Automart is Africa's leading directory and market news website for the automotive spare parts, automobiles and auto accessories industry | Kenya | Tanzania | Ethiopia