Tycoon Reginald Mengi to Build Car Assembly Plant in Tanzania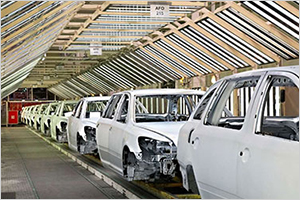 Tanzania Tycoon Reginald Mengi Have signed a deal with a South Korean firm to build car assembly plant in the country.

According to East African newspaper, now there will be two projects between Mengi's Automobile Company Ltd and Youngsan Glonet Corporation of vehicle assembly plants in Tanzania. The other project is Ursus, a Polish tractor assembly plant at Kibaha.

Mr Mengi, the IPP group executive chairman, also has interests in processing, in the media, Coca-Cola bottling, mining and consumer goods.

After Signing the deal, Mr Mengi announced that the plant, to be built at Kurasini, will be up and running by September next year. He also added that it is expected to assemble around 1,000 vehicles per year, which also Includes commercial and construction trucks, buses and sports utility vehicles.

The plant is expected to employ more than 1,000 which will include distribution and sales executives in Tanzania, Rwanda, Kenya, Uganda, Zambia and Malawi. IPP Automobile has started importing parts for the assembly of Hyundai, Kia and Daewoo vehicles.

Tanzania jointly with Rwanda and Kenya is establishing car assembly plants in the region. Volkswagen is operating two car plants — in Kenya and Rwanda. Kenya is the region's leader in motor vehicle assembly, with three plants.

Mobius, a mass market vehicle specifically designed for Kenyan roads. In Uganda, Kiira Motors Corporation has its vehicle assembly plant in Kampala and is thinking of manufacturing all the parts to assemble its Kayoola electric bus by 2039.
Posted on : 16 Sep,2021 | News Source : ABNews
Automart is Africa's leading directory and market news website for the automotive spare parts, automobiles and auto accessories industry | Kenya | Tanzania | Ethiopia