Mobius Switches Gears in an Elusive Quest for an Ideal Kenyan Vehicle.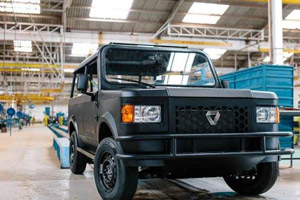 This year, local carmaker opened a production facility of Sh330 million in Nairobi, targeting mass production of the second generation model – Mobius II.
Guibert, a Frenchman, said they got about 500 pre-orders, and once production begins, they expect to sell 2,000 units per year, with the factory having an annual production capacity of 5,000.
"We are planning to launch our car in the third quarter of the year. But we're not going to do that if the efficiency and robustness isn't there," he said.
They are mainly financed by international investors, although Guibert said there are also a few local investors.
Guibert entered the adventure about a year and a half ago, after being tapped by founder Jackson to improve the carmaker's skills, riding on the Frenchman's decades of experience with leading car manufacturers, including Peugeot, Citroen, Jaguar and Land Rover UK.
Jackson expressed shock during his visit to Kenya that 90 per cent of second-hand cars were imported into the local automotive market.
These cars are over seven years old, with a high mileage of up to 100,000 km and no warrant. They're still selling at relatively high prices.
"They were also not really suited to the conditions of Africa. Here, too, people make a mixed use of their car for personal and professional use," Guibert said. High import duties have brought new units out of the control of many Kenyans.
"To turn it around, we need to manufacture that car locally in order to avoid paying those duties and also include high local content," he said.
"Over the last 10 years, the car design has developed into an all-terrain car tailored to local consumer needs and is affordable and competitive against imported used vehicles."
This is in the midst of the government's plans to phase out imports of second-hand vehicles by 2026 in a dramatic change aimed at boosting the growth of the local car assembly industry.
It is part of a series of steps planned by the Ministry of Industrialization to streamline the motor assembly market, as set out in the National Automotive Strategy.
Government data states that second-hand car models account for more than 85 per cent of the imported Fully Built Units (FBUs) in Kenya, with the bulk coming from Japan.
During the opening of the Mobius factory, Trade Cabinet Secretary Betty Maina disclosed that Sh600 million had been set aside to purchase locally produced or manufactured vehicles as part of the Covid-19 government's economic stimulus programme.Guibert said Mobius has a mission to society to help Grow the car industry in Kenya. The commissioning of the factory, he said, was an opportunity to invite the government to support the auto industry.
"It was an opportunity for us to start talking to the government about how they could support us more. What we're doing is completely unusual in comparison to what happens, because the government is already doing a lot for the automotive industry," he said.
Mobius Motors has 55 employees and aims to raise the number in the longer term to between 200 and 300 when mass production begins.
It bills itself as a local manufacturing company and only hires expatriates when there is a need to pass skills.
So far, two versions have been designed by the company. Guibert described the second generation as a "very simple design devoid of too much electronics or technology to push up prices."
He defined it as a sturdy vehicle, the core structural feature of Mobius II being a steel frame mounted on a longitudinal ladder chassis.
He compared the car electronics set-up to the famous Peugeot 504 of 1968-1983. This is minus the infotainment tablet which, however, is not connected to the vehicle's wiring, but to the driver's phone to allow the use of the GPS.
"Because the design is plain, the features are very basic... If it crashes, it's really easy to fix it... You may be able to fix it on your own, so it's a vehicle that you can service very quickly anywhere cheaply."
The Mobius II also has no central lock; the windows are hand-held with a very simple wire harness.
Posted on : 07 Jun,2023 | News Source : www.afatmtnz.com
Automart is Africa's leading directory and market news website for the automotive spare parts, automobiles and auto accessories industry | Kenya | Tanzania | Ethiopia