Uganda's Auto Business Plans to Start Manufacturing Busses This Year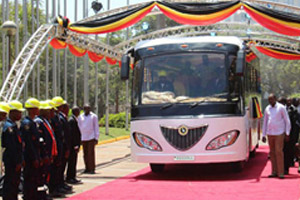 Uganda's state auto maker, Kiira Motors Corporation, says it will start manufacturing busses by July and aims to deploy 1,030 units this year as it moves to the market now served by major players including Isuzu, Man and Taata.
The East African country hopes to ride a public KMC to compete with its neighbors, including Kenya and Rwanda, to develop domestic auto industries and capture a share of the increasing demand for new vehicles in the region.
"We are targeting July this year," said Paul Isaac Musasizi, Chief Executive Officer of KMC, in an interview, referring to the intended development of vehicles.
"We've had talks with business partners, and by the end of this year we're looking at 1,030 busses."
KMC, built on engineering projects by students at the University of Makerere, has been working on solar, electrical and other vehicle models. The bus is going to be its first commercial product.
It currently operates on a $40 million government grant, but aims to sell shares to private equity investors once development begins. The company plans to manufacture both electric and diesel-powered models of the 47-seater Kayoola Couch bus, Musasizi said.
When fully charged, the electric version would be able to travel 300 kilometers until the battery needs to be recharged.
Posted on : 07 Jun,2023 | News Source : www.afatmtnz.com
Automart is Africa's leading directory and market news website for the automotive spare parts, automobiles and auto accessories industry | Kenya | Tanzania | Ethiopia