Scania Introduces Electrically Assisted Steering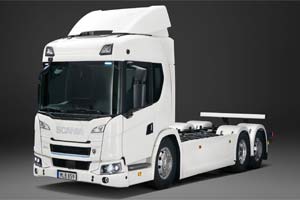 Scania is launching the EAS as an alternative for its trucks. Electrically-assisted steering can enhance driving experience and allow new or enhanced driver support systems. Together they can help reduce the mental strain on drivers by handling large vehicles, such as truck combinations on busy highways. The EAS-based ADAS functions are successful at speeds above 60 km/h, while drivers do need to hold their hands on the steering wheel.

The Scania EAS system is electro-hydraulic, speed-dependent and provides features such as active return and side wind-induced offset compensation. The control algorithm involves factors such as rpm, ensuring that the torque of the steering wheel is always proportional to the resistance of the wheels. With the electro-hydraulic steering, the wheel is pushed back to neutral by itself. This is particularly helpful when reversing.
"The EAS and support systems should be exactly that kind of supportive," says Dorski. "We have no intention of taking away our renowned road-handling capabilities or the wonderful feeling of driving a Scania. And it is important to note that despite the comfort and safety functions, the driver is still responsible and in charge."

Scania EAS trucks can be ordered with a variety of smart support systems, all of which are described using confusing acronyms based on the de-facto norm in the automotive industry. The solution to Scania is to bundle these support systems into three packages – called Identification, Prevention and Comfort – that will direct potential customers through a simple and logical framework.
The driver can activate or deactivate most of the functions. Some also have partially overlapping functionality, depending on factors such as speed, monitoring area, range and availability of road markings in good condition.

EAS-based systems all share a similar alert logic of increasing levels of activation with vibration, coloured lights or in some cases, active driving of the truck.
Posted on : 26 Oct,2021 | News Source : www.afatmtnz.com
Automart is Africa's leading directory and market news website for the automotive spare parts, automobiles and auto accessories industry | Kenya | Tanzania | Ethiopia