Rwanda Motorcyclists started using meters and cashless payments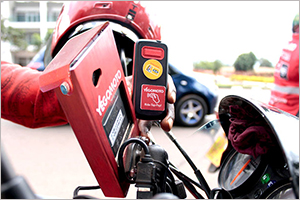 Rwanda began easing lockdowns at the beginning of May. In the time between these events, motorcyles will return to the streets of the East African city.
According to an announcement by the Rwanda Utilities Regulatory Authority (RURA), cashless payments will now be the only way for motorcycle taxi operators to receive payments from customers.
"All motorcyclists in Kigali are required to use meters and cashless payments such as MTN MoMo or Airtel Money,". Drivers and passengers should carry hand-sanitizers and they must wear face masks.
The requirement to have meters will be extended to provinces in the country at a later date but collecting cash for trips will effectively become a thing of the past.
The norms will go into effect on June 1.
Rwanda's moto taxis return to passenger service as African governments – from Nigeria to South Africa – begin contemplating the economic pains of sustained lockdowns. However, the government appears to see a sizable opportunity to finally get motorcyclists to go digital.
The Rwandan Ministry of Infrastructure declared a July 1 deadline for the two-wheelers to "go digital or quit" by installing meters. The rationale at the time was to eliminate haggling between passengers and drivers, increase access to transport and track reckless driving.
With the pandemic influencing current thinking around close human contact, RURA is emphasizing limiting "hand-to-hand" in its directive urging cashless payments. That builds the narrative for an objective measure of billing for trips, which is where the mandate for meters rests on this time.
Rwanda has a national motorcycle transport strategy to introduce a cashless based payment system for taxi-moto operators. It is based on the "Tap-and-go" payment system used in public commuter buses in Kigali.
Posted on : 19 Sep,2021 | News Source : techcabal.com
Automart is Africa's leading directory and market news website for the automotive spare parts, automobiles and auto accessories industry | Kenya | Tanzania | Ethiopia