BOLLORE PORTS SIGNS A CONCESSION AGREEMENT TO MANAGE THE FIRST PORT TERMINAL DEDICATED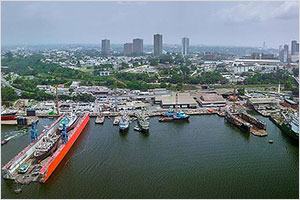 Bollore Ports is a global player in port activity operating twenty one concessions worldwide, sixteen of which in Africa. The foremost port infrastructure operator in Africa, Bolloré Ports continues to develop and invest in Africa, as well as in Asia, Latin America and the Middle East. The company's skill is dedicated in 3 key arenas namely, traditional cargo handling, port concessions and shipping agency services.
The terminal will offer the Automotive Industry with devoted services, remarkably in the import, export and reshipment of cars to ports and markets in neighboring states.
It was on December 19, 2019, the consortium comprising of Bolloré Ports, Yusen Kabushiki Kaisha and Toyota Tsusho Corporation signed a concession settlement with the General Authority for the Suez Canal Economic Zone with a view to constructing, equipping and managing a ro-ro terminal at Port Said in Egypt.
The consortium, the concessionary of the Port Said ro-ro terminal, comprises of the French company Bollore Transport and Logistics which is one of the leading operators in port terminals in Africa, the Japanese Logistics Operator, Yusen Kabushiki Kaisha and the Japanese Automotive Company Toyota Tsusho Corporation.
The consortium is committed to capitalizing USD 150 million over the period to obtain the equipment and advance the infrastructure. It aims to create 400 direct jobs and 1,000 indirect jobs. It will be equipped with a 600 meter dock and a 21 hectare storing park for receiving and delivering cars.
Once the works gets completed in 2021, the consortium will be able to handle almost 800,000 cars per year. Building on the synergies created, it targets to help Port Said to grow into the benchmark port in the Eastern Mediterranean.
Posted on : 25 Sep,2021 | News Source : bizautonews.com
Automart is Africa's leading directory and market news website for the automotive spare parts, automobiles and auto accessories industry | Kenya | Tanzania | Ethiopia