TOYOTA SOUTH AFRICA ROLLS OUT R4.3-BILLION INVESTMENT AT LOCAL OPERATIONS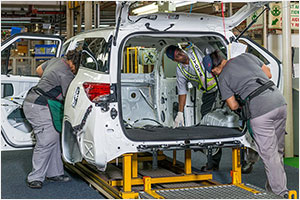 Toyota South Africa Motors (TSAM) has announced that it will capitalize R4.28-billion in its local operations up to the end of 2020.
The lion's share of the investment R2.43-billion has been allocated for gearing up for the manufacture of a new passenger car model at the Prospecton plant, in Durban, which will start in October 2021. This new passenger model will substitute the Corolla production line, which is due to wrap up work this year. However, production of the Corolla Quest will continue.
Andrew Kirby, CEO and President of TSAM stated that the new investment will connect a number of expanses at the local arm of the Japanese car maker. Kirby further mentioned that the production of the new vehicle will comprise of a Toyota hybrid synergy drive model. "With this investment, Toyota South Africa Motors is firming up its long-standing commitment to local manufacturing, together with the South African automotive industry".
The investment in the new model will generate an additional R2.85-billion towards the South African economy a year, as well as around 1 500 new jobs, of which 500 will be at TSAM and 1 000 with suppliers.
"It is of specific importance to remind that this investment would not have been possible without industrial policy certainty in the form of Government's Automotive Production and Development Plan 2, and I would like to thank all the role-players involved in paving the way to practical implementation of the new policy regime in 2021," adds Kirby.
Other pockets of investment include enhancements to the local production of the Hiace Ses'fikile minibus (R454-million); as well as an increase in production volume of this model (R91-million) from 14 000 to 18 000 units a year (culminating in 270 new jobs); and the establishment of a packing plant to support knock-down production of the Hilux bakkie in Kenya (R20-million).
TSAM is also investing R365-million to twofold the size of its Atlas warehouse in Gauteng from 40 000 m² to 80 000 m².
When it gets completed next year, the facility should be the largest automotive parts warehouse in the southern hemisphere.
The Japanese car maker also has a number of ongoing projects between 2019 and 2020, including an R18-million investment into the production of the new Corolla Quest model, as well as numerous facilities advancements at the plant, that come to a total of R928-million.
TSAM has also spent R33-million on renewable solar energy projects to date, and currently generates 3 MW of electricity from the sun. The goal is to have 16 MW installed by 2025, representing 22% of the Durban plant's electricity consumption.
Posted on : 19 Sep,2021 | News Source : bizautonews.com
Automart is Africa's leading directory and market news website for the automotive spare parts, automobiles and auto accessories industry | Kenya | Tanzania | Ethiopia