First Bosch automotive shop opens in Ghana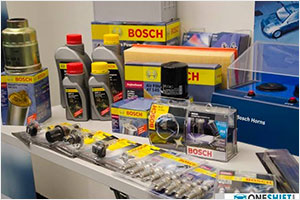 Bosch Ghana with the appointment of Battery Planet has launched the international chain of Bosch automotive shops in Ghana. Battery Planet is regarded to be the first in Ghana to join the chain of official Bosch automotive shops delivering a wide range of automotive spare parts and accessories.
Regional Director of Automotive Aftermarket West Africa, Mr. Julien Lacoste mentioned, "Bringing original quality automotive parts and accessories at reasonable costs to the Ghanaian motorist is the foremost objective for Bosch in Ghana.
"We have a strategy to roll out a network of Bosch automotive shops across Ghana guaranteeing the motorist calmness in obtaining original Bosch parts and accessories."
Julien Lacoste also stated that, "In addressing the requirements of the market, Bosch Ghana delivers market solutions for automotive distributor and vehicle service workshops, including diagnostic equipment and spare parts. For the motorist, Bosch Ghana is developing the network Express Bosch Car Service workshops and Bosch Car Service, ensuring the motorist peace of mind when needing vehicle repair and maintenance services,"
In addition with other product lines in automotive spare parts and accessories, the Bosch Service network and other aftermarket workshops and retailers can source an array of Bosch products together with batteries, filters, wiper blades, spark plugs, braking systems, diesel injection systems, gasoline injection systems, with comprehensive service support.
Battery Planet is a formally appointed Bosch supplier, in addition to the Bosch automotive shop. Battery Planet arranges the eXtra loyalty program for Ghanaian retailers and workshops and has lately extended its distribution with some top Ghanaian supermarket chains. The eXtra loyalty program permits workshops and retailers to make points and redeem rewards when they buy original Bosch parts from any of the dealers.
Posted on : 19 Sep,2021 | News Source : www.uads.com
Automart is Africa's leading directory and market news website for the automotive spare parts, automobiles and auto accessories industry | Kenya | Tanzania | Ethiopia