Toyota strengthens its funding on Durban taxi plant to more than R1bn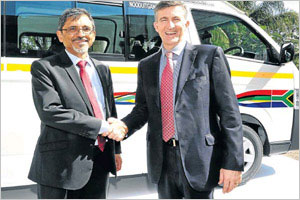 Toyota South Africa Motors (TSAM) has disclosed that it has boosted its investment in its HiAce Ses'fikile taxi vehicle plant in Prospecton near Durban to more than R1 billion since 2012. Its current R454 million investment will Improve local production of the model by expanding the local value addition.
President and chief executive of TSAM,Andrew Kirby says the Improvement to local production of the HiAce Ses'fikile model have established 80 additional jobs in the plant while 20 additional people have been engaged because of the investment in the packing operation.
Kirby says TSAM is devoted to support the South African Automotive Masterplan and has proactively increased the local value addition of the HiAce Ses'fikile to 44% from 38%, with this localization adding R422 million a year in local value addition to the economy.
Kirby says the latest investment by TSAM in the HiAce plant followed its initial investment in 2012, adding that it replaced from importing the HiAce as a completely built-up unit (CBU) to a semi knocked-down (SKD) vehicle at that point, and to a completely knocked-down (CKD) model in 2015.
Talking about The Condition of market share, TSAM has about 80% of the taxi vehicle market, with the taxi industry transporting more than 15 million or about 70% of the commuting public daily.
Ebrahim Patel, Minister of Trade, Industry and Competition, says the latest investment by TSAM is another major vote of confidence in the capability of the South African automotive industry and the KwaZulu-Natal economy.
Kirby said at the time that TSAM had identified a number of core countries in Africa that made sense for this project – including the East Africa bloc with Kenya as its centre, and the West African bloc, which includes the Nigeria-Ghana region – and that a final decision had not yet been made on the countries to which TSAM would export the kits, which would generally be Hilux models.
He disclosed that production in Kenya will commence later this month, with favor for customers in the Kenyan market in that they will be able to buy their vehicles at a more ambitious amount.
He says TSAM is devoted to the growth of the automotive industry and, as such, will linger its contribution to the social and economic development of Africa as a whole.
Posted on : 23 May,2022 | News Source : ABNews
Automart is Africa's leading directory and market news website for the automotive spare parts, automobiles and auto accessories industry | Kenya | Tanzania | Ethiopia