Nippon Express Boost up its Presence in Morocco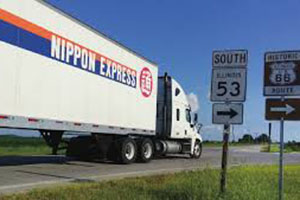 Logistics provider Nippon Express France has inaugurated a second operation in Morocco, a logistics centre in the port of Tangiers. The expansion follows several global automotive companies, including component manufacturers, setting up production facilities in the Tangier Free Zone next to the port.
"There are various customers, tier 1 and tier 2, which are currently supplying automotive parts from Asian or other foreign countries to Morocco and other North African countries passing through Europe, and for these customers it is beneficial to use Tangier port directly," says a Nippon Express spokesman.
The tire manufacturers are able to gain effective and efficient targets, and this tendency is likely to increase as new suppliers are looking for opportunities in Morocco and North African countries, taking advantage of Tangier's high handling capacity, he added.
Services offered by Nippon Express France, a subsidiary of Japan's Nippon Express, at its new Tanger Med Logistics Centre include arranging customs documents, transferring containers from the port to its warehouse, storing goods and making them ready for dispatch, delivery and re-exporting goods to other countries, especially in North Africa.
Nippon Express France is thinking of growing operations at its Tanger Med Logistics Centre as there are huge connections from the port to other countries. Also, some companies use it as a hub to distribute products or parts to rest of Africa.
Tangiers port is tied up to 186 ports in 77 countries, while the adjacent free trade zone has around 800 tenant companies. The Moroccan government's policies include improving the country's status as a logistics hub for North and West Africa, with Tangier port serving as a key gateway.
Posted on : 23 May,2022 | News Source : ABNews
Automart is Africa's leading directory and market news website for the automotive spare parts, automobiles and auto accessories industry | Kenya | Tanzania | Ethiopia