Toyota opens its first garage in Thika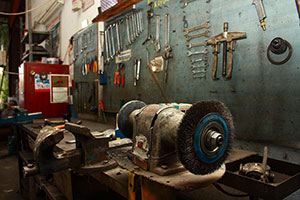 With the aim of spreading its service network nation wide, Toyota Motor Corporation has opened its first garage on Thika Road. The garage, is opened in a deal with Toyotsu Auto Mart Kenya. It will give spare parts, repair and maintenance as there is a trend followed where most of the car owners take the services from non-Toyota affiliated garages in the city. Therefore, the automaker plans to invert this pattern.
The facility named 'Japanese Vehicle Service Centre' will provide competitively priced services, the firm said.
"We have a plan to expand the number of partner garages up to 15 throughout Kenya in 2-3 years, predominantly in urban areas such as Nairobi. This will be reached out to Kenya as well as other African nations," Toyota said in an announcement.
Also, if priced moderately, the move is probably to venture up competition with local car garages that may be forced to reduce their pricing.
Besides, as indicated by information by the Kenya Revenue Authority, Toyota controls about 57% of the Kenyan market for both new and used cars ahead of Nissan Motor Corporation at 12%. This implies that nearly 6 in every 10 vehicles on Kenyan streets are Toyotas. Some of the most prominent makes include Probox whose sales in the 22 months to October 2018 stood at 14,188 units, followed by Corolla (10,786), Land Cruiser (8,110), Hiace (5,353) and Vitz (5,468).
Toyota Probox sales have raised over the years owing to the car's versatility. It enables ferrying of goods and passengers particularly in more remote and marginalized parts of the nation.
Brand new Toyota cars and second-hand imports are sold by local dealers, forming the majority of the firm's cars on Kenyan roads.
Toyota trailed Isuzu Motors in sales of new cars in the 4 months to April 2019, as per the most recent industry information by the Kenya Motor Industry Association (KMIA). Toyota sold 925 units in the initial 4 months of the year while Isuzu moved 1,485 new cars.
In efforts to increase its revenues, Toyota signed a deal with fellow Japanese car manufacturer Suzuki to sell seven models under the Toyota Kenya distributorship early this year. The 7 include Alto with an engine capacity of 800CC, Swift (1200CC), Ciaz (1500CC), Jimny (1500C) and the Vitara (1600CC).
Posted on : 25 Sep,2021 | News Source : ABNews
Automart is Africa's leading directory and market news website for the automotive spare parts, automobiles and auto accessories industry | Kenya | Tanzania | Ethiopia