Isuzu East Africa Launches 'Cool Vehicles' for Retailers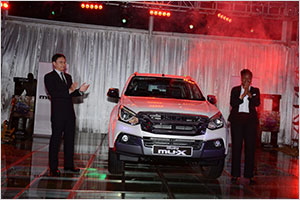 Vehicle assembler Isuzu East Africa (Isuzu EA) has introduced a locally assembled Cold Chain logistics vehicle. These 'cold vehicles' will support farmers, hoteliers and other retailers in transporting temperature-sensitive produce from farms or factories to consumers, following the entire supply chain to preserve their quality.

In alliance with vehicle accessories suppliers Sai Raj and Specialised Fibre Glass, Isuzu EA has enabled cold storage vehicles to mitigate fresh produce losses estimated between 20 to 30 per cent during transportation from farms to market.

High quality preservation and storage efficiencies of these vehicles will also have a positive impact on producer revenues and profitability.

Isuzu EA Sales and Marketing Director, Wanjohi Kangangi, said that the introduction of the these cold storage logistics vehicles will support the Big Four Agenda on Food Security by addressing post-harvest losses faced by farmers and retailers while improving food safety, hygiene and quality.

"We are confident that our Cold Chain Solution will address the lack of affordable and practical heat insulated trucks which necessitates the adoption of practices such as overnight transport. As a company, we are keen to introduce new ways to support government achieve its Big Four agenda for the country," explained Kangangi.

Kangangi further added that Isuzu EA has provided three types of cold storage vehicles that will meet the needs of good amount of retail and farm producers in the country, as the company adopts global approaches to resolving temperature-sensitive transport challenges.
Posted on : 16 Sep,2021 | News Source : ABNews
Automart is Africa's leading directory and market news website for the automotive spare parts, automobiles and auto accessories industry | Kenya | Tanzania | Ethiopia