Africa's car manufacturing gets a support by French carmaker Renault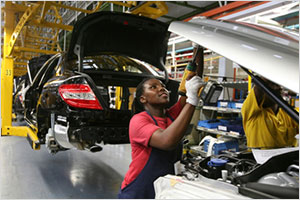 French carmaker Renault is ready to set up an assembly plant in Ghana, uniting a long list of carmakers interested in Africa.

The multinational automobile manufacturer's Vice President and Chairman for Africa-Middle-East-India (AMI) Region, Fabric Cambolive, announced when he was called on President Akufo-Addo at the Jubilee House in Accra.

"For us, we are now to see if our volume to bring our products to this country is marching with your policy and, if it is okay, we will be happy to do that," he stated.

Cambolive mentioned he was privy to the values of Ghanaians, which to him, were critical to the company and "hope that we will be able to personalize it in a really hard project, not a short-term project, but a long-term project, and if everything is corresponding, we will come back to you as soon as possible."

President Akufo-Addo signified his happiness and optimism about the declaration, describing it as good news.

"Ghana is the most preferred destination, business friendly, impressive economic signs and political stability in West Africa region, to establish an assembly base," Akufo-Addo.

He then added saying, "We are the second largest economy in West Africa. So, there are lots and lots of analysis why Ghana is a well-positioned place for you."

Also other car manufacturing companies like Volkswagen, Sinotruk and Nissan are expected to set up their assembly plants in Ghana this year.

Competition is getting stiffer on the continent as preferences evolve and big spenders emerge on the continent.
Posted on : 19 Sep,2021 | News Source : ABNews
Automart is Africa's leading directory and market news website for the automotive spare parts, automobiles and auto accessories industry | Kenya | Tanzania | Ethiopia