Kenya's CMC Motors in deal with Renault Trucks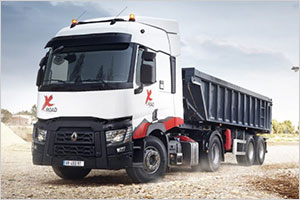 CMC Motors Group has got into a deal with French automotive manufacturer Renault Trucks to extend its footprint within the heavy commercial truck industry, to meet increasing demand across the East African Region.

Renault Trucks Africa Vice President, Cyril Barille, noted that, East Africa is rapid growing regions, an important factor that has contributed to growing demand for logistics services and equipment.

Adding on to it Cyril barille said "East African economies continue to grow generating demand for heavy commercial vehicles. This demand is compelled by the end-to-end logistics for industries, retail and agricultural production. Additional demand has come from the construction industry with governments investing in the development of trunk infrastructure such as roads, water and sewerage as well as electricity.Aside from governments; the private sector continues to invest in the development of real estate and the rising mining sector. Kenya also acts as the regional centre for East and Central Africa, due to its strategic location".

CMC recently celebrated 70 years of operations across East Africa and it is looking to focus more into the heavy commercial vehicle segment as part of its product diversification strategy. Under the new partnership Renault will gain from CMC's regional footprint and network, with over eight branches across Kenya, and a central warehouse in Nairobi. The French brand's ambitions coordinated completely with CMC Motors'long team goals.

With Noel Mabumas point of view, CMC Motors CEO, the access of Renault trucks into the market will enhance its offering within the heavy commercial vehicle segment to meet increasing demand from both existing and emerging industries.

"There has been increasing demand for heavy commercial vehicles with governments and the private sector undertaking various infrastructure-based projects. The government of Kenya in particular has changed its financing and acquisition models with acceptance of leasing as the key means of acquisition. This has created curiosity from both financial service providers and logistics firms looking to supply the government and other contractors with equipment" Mr. Mabuma said.

CMC Motors, which is part of the Al Futtaim Group, will make use of its regional reach to promote Renault Trucks activities. A regional training center will be opened in Nairobi, shuffling Kenya as the regional Hub for the South East Africa region allowing to upskill and support competence development.

They will be assembled locally under a partnership between CMC Motors and Kenya Vehicle Manufacturers (KVM) even after being a vehicle from French origin. The plant will generate over 200 new jobs with additional benifits set to be generated across the value chain.

Renault Trucks has an existence in over 100 countries contributing commercial vehicle users a variety of innovative services and vehicles adapted to a diversified range of transport activities ranging from distribution, construction, heavy construction and long distance.
Posted on : 25 Sep,2021 | News Source : ABNews
Automart is Africa's leading directory and market news website for the automotive spare parts, automobiles and auto accessories industry | Kenya | Tanzania | Ethiopia