Hailing Nopia electric ride to get launched first in Nairobi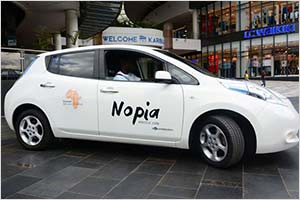 Hailing market in Kenya is launching a new electric ride taxi naming it as Nopia ride. The new nopia taxi will bring revolution to the sector where there is already a existing hailing rides in Kenya like Uber, Taxify, Mondo Ride and Little Cab.
Nopia is a product of Finnish company EkoRent. Headquartered in Helsinkin, Finland, and founded in 2014, EkoRent has raised at least €458,400 in funding according to their CrunchBase profile. €170,900 of that was raised in 2016 through equity from an equity crowdfunding round.

Ekorent Nopia ride will give its drivers efficiency in profit making and also reduce pollution from car emissions as the car will be 100% electric and very cheap compared to other polluting gasoline cars. The cost for the ride will also be cheap for those who will opt for this service. Payment for this hailing company ride is also made digital using M- Pesa which allow the rider to clear trip bills digitaly.

The launch Nopia will make Nairobi the first city in the region to reduce the energy use and emissions using the taxi as it will combine shared transport and electric mobility.

In time of trial phase, EkoRent was servicing and maintaining its two charging stations based at the Two Rivers Mall and the Hub in Karen, at zero cost to the taxi drivers.

The cars have no engine, they move along the roads, with electric indicators showing the battery levels, so that drivers know the time to charge the car. The one who wants to use the service needs to download the Nopia ride mobile app to locate the electric taxi.

Taxi Charging Bays will be easily available around Nairobi recharging of the vehicles. This will be the first fully electric ride-hailing service in East Africa and is very effective step taken for African development.

Posted on : 25 Sep,2021 | News Source : ABNews
Automart is Africa's leading directory and market news website for the automotive spare parts, automobiles and auto accessories industry | Kenya | Tanzania | Ethiopia