21st Autoexpo Africa Gears to Hit the Kenyan Capital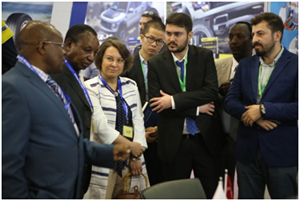 The most awaited event of the year is here, with exhibits from across the globe, the 21st Autoexpo Kenya 2018 is all set to arrive with a bang with headline sponsors, namely Robert Bosch, Emarat and Ao Obninskorgsintez. The expo is recognized as East Africa's prime exhibition on automotives, spare parts, accessories and much more. The presence of multinational audience at the event, connect Africa to the world, opening possibilities of new business ventures and expeditions. The 21st edition of the event will commence on the 17th to 19th May 2018, at the Kenyatta International Convention Center (KICC) in Nairobi.
With the ongoing development changes, Africa is the next destination for all investors as its market growth is estimated to grow by 6 % this year. "The Automotive Industry is now a multi-billion dollar business in the continent. What's even bigger is the industry that supports this market – vehicle accessories, spare parts, lubricants and repairs/maintenance services. There is a demand for over $8 billion worth of spares and accessories each year. Smart entrepreneurs, big and small businesses are making a fortune from the growing demand for vehicles and complementary goods and services," said Elvyn Reeves, Public Relationship Manager for Expogroup, the organizer of the show for the last 20 years
The event features the latest developments, products, equipments and ideas in the automotive world. The event has seen a crowd of over 4500 people attending the event, all in search for a scope of business, investments, export options and quality search for importing goods. This year the audience expected is stronger that the old counts, eager to visit the pavilions of different countries such as Kenya ,USA, Germany, UAE, UK, India, Turkey, Ethiopia China, Russia etc . There will be a collective display of over 10,000 products by companies such as Impala, Leyland, Wepp Gmbh, Petrovoll, Bedico Automotives, All Makes 4X4, Kinergo, Davanti Tyres, Interlink Trading & Manufacturing Plc, Asimco, Oswal Autotech Llp, Freezetone Products Usa / Olein Recovery, Us Global Petroleum, Changzhou Haochen and many more.
The expo will be a boost to the capital city and the rest of the country, an advantage to be used for the benefit of its locals as well as immigrant population alike. Set ups of new ventures, exchange of businesses will encourage more employment and provide a better living facility due to various business ventures and investments. The event will be open for all, wanting to grow and experience the extraordinary world of the automotive industry.
For further details and information kindly visit: http://www.expogr.com/kenyaauto/
Joel D'Silva
Media Manager
Autoexpo (East Africa)
Email: feedback@expogr.com
Int'l: +971 43050755 | Kenya: +254 792268513
Posted on : 25 Sep,2021 | News Source : ABNews
Automart is Africa's leading directory and market news website for the automotive spare parts, automobiles and auto accessories industry | Kenya | Tanzania | Ethiopia