Volkswagen to Double Production from Kenya Plant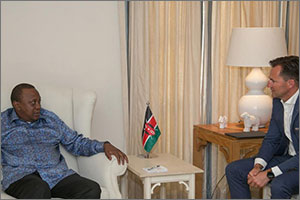 German automaker Volkswagen is hoping to double production and also to present another model at its Kenyan assembly plant in Thika.
VW's South Africa chief Thomas Schaefer told President Uhuru Kenyatta at a meeting that "the firm was exploring producing a second model in Kenya, possibly a hatchback – small SUV – while doubling production of the VW Polo Vivo to at least 300 vehicles,"
Developing the automotive industry is the most important aspect of the President's industrialization agenda, part of the Big Four.
President Uhuru welcomed VW's commitment to the development of its Kenya facility, saying that the country had a ready market for cars made in Kenya, provided that they were sold at affordable prices.
"We will walk this journey with you to produce affordable cars. Our plea is that you price these vehicles reasonably," the President said.
President Uhuru also said "We are very keen that our youth, a highly educated group, can get to work in a company of great technological sophistication as VW, which is why we welcome your plans to go full throttle to increase production,"
He looks forward to a successful operation in Kenya, Nigeria and South Africa.
Kenya aims to produce a major auto manufacturing plant, with the capacity to meet the supply needs of East and Central Africa.
VW was set up in Kenya in 2016, and its first car was out less than a year later.
In 2015, Japanese car manufacturer Toyota started assembling some models while last year, French automaker Peugeot started manufacturing cars in Kenya.
Posted on : 25 Sep,2021 | News Source : ABNews
Automart is Africa's leading directory and market news website for the automotive spare parts, automobiles and auto accessories industry | Kenya | Tanzania | Ethiopia