Nissan Almera wins 2017 'Car of the Year Award'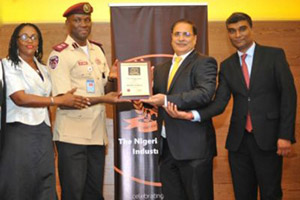 The Nissan Almera sedan won the 2017 'Car of the Year (CoY)'Award by Nigeria Automotive Industry (NAI), overtaking keen rivals Toyota Corolla, Ford Focus, Peugeot 301 and Kia Optima.
Nissan recently fine-tuned the Almera for enhanced performance, adding a seamless blend of fuel economy, rare mix of comfort with unprecedented cabin space and dexterity that could evidently be the most impressive in its class yet.
These additions, which likewise include various different amenities, are offered without necessarily tweaking the showroom price of this functional sedan that easily sits five passengers over moderate distances with adaptable room to stretch even in vexing traffic.
NAI adjudicators had considered these outstanding features when prospecting for the nominees for the 'Car of the Year.'
The organizers said other dynamics such as out of pocket costs like fuelling, repairs, and maintenance; ownership costs within the first five years coupled with online public ballots also played out in its choice of the 2017 Car of the Year award.
The new Almera conveys an extraordinary gaze that could attract fleet managers, sales reps, or anyone with an eye for specifics.
The Almera is assembled in Nigeria at the Stallion NMN plant at Lagos–Badagry Expressway, and more than 1000 units have so far been sold since 2015 when the first car launched out of the plant at VON Automobile complex.
Receiving the award on behalf of the company, the Managing Director Stallion NMN, Parvir Singh said: "We feel honored by this outstanding award and we will continue to offer exceptional customer experience in keeping with Nissan tagline, 'Innovation that Excites.'
He said Stallion NMN and Nissan Sub-Saharan Africa has worked together to achieve this goal and "together, we will rebuild industrialization in Nigeria and contribute towards the growth of the manufacturing sector."
Nissan looks forward to continue to grow its market share baring the fact that Nigeria is one of the most important markets in Nissan Africa Growth strategy, Mr. Singh said.
Posted on : 19 Sep,2021 | News Source : ABNews
Automart is Africa's leading directory and market news website for the automotive spare parts, automobiles and auto accessories industry | Kenya | Tanzania | Ethiopia