Connected Cars: From here to autonomy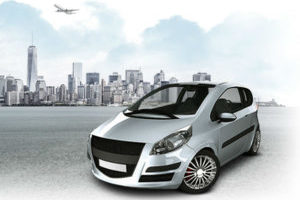 South African consumers' great love affair with the automobile is set to grow ever more passionate, as an array of new technologies starts rapidly entering our cars – reshaping the travel experience for the millions that head out onto our roads every day.
Connected car technologies will lay the foundation for various assisted driving innovations (think of lane change alerts, self-parking, and emergency braking assist), and these, in turn, will evolve into full autonomous driving.
Connected, and autonomous vehicles, will also alter the business models for car manufacturers, dealers, repair workshops and other industry players, spurring interesting partnerships as new ecosystems form around the next-generation automobile.
The vision
For example, with Connected technologies, automotive firms can solve the perennial issue of low after-market engagement (particularly once a new vehicle's service plan has expired), by opening up new opportunities for proactive maintenance and support, real-time diagnostics, and ultimately, a number of new revenue streams.
Consumers will benefit from connected, geo-located services (syncing with your calendar to schedule meetings, booking restaurant tables, activating the security systems within your connected home, and the like). As we arrive at the full-autonomous stage, our cars will be able to fetch the kids from school, collect pre-ordered groceries from the shops, or send themselves out to make some extra cash as an Uber car.
For society at large, connected cars will be the cornerstone of the 'smart city' vision – as they send information to authorities that helps with the design of road networks, the timing of traffic lights, the development of mass transit commuter networks, and more.
In fact, connected and autonomous cars will stretch our imaginations in fascinating ways, and could entirely change the fabric of our daily lives.
Focus on security
But to move beyond the hype and understand what truly needs to happen to reach the self-driving 'Nirvana', Mobile World Live recently conducted one of the broadest industry surveys, polling over 1,000 industry players and consumers.
Network security leader, F5 Networks, contributed to this paper, discussing the topic of security – arguably the most critical area for the success of automotive innovation and ultimately self-driving cars.
Anton Jacobsz, Managing Director at Networks Unlimited, an authorised value-added distributor of F5 products throughout Africa, explains that vehicle makers, technology firms, mobile operators and other ecosystem partners will face tremendous pressure from end-users and regulators to build secure and integrated connected car platforms.
Jacobsz recalls the controlled, white-hat attack on a Jeep Cherokee in 2015, where hackers took remote control of the car and manipulated it while the test driver was cruising on a highway. "This is an important moment in the realm of connected car cyber-security. It raised the awareness about something which previously wasn't talked about – that next-generation cars could potentially be hacked and controlled from afar".
He explains that as car technology becomes increasingly more sophisticated, the attack surfaces increase. Consider that cars may also hold the keys to financial data (such as making payments at parking lots, fuel pumps and other places), and personal data (knowing everything about your daily movements and integrating with a host of other lifestyle services).
Key survey findings
The Mobile World Live survey revealed the following cyber-security findings, which Jacobsz says highlights the most important areas to tackle:
Only one-third of our respondents felt that there is sufficient security currently in place for full autonomous driving to be possible on a mass scale;
The greatest external threats identified are hacking (chosen by 59 percent of respondents), followed by malware and viruses (28 percent);
The biggest internal vulnerabilities are the connection technologies themselves (25.2 percent), navigation and information systems (20 percent), and electronic control systems (19.5 percent);
The best defences chosen by respondents are encryption of data (54 percent) of respondents, biometrics (26.7 percent), firewalls (15.5 percent) and anti-virus (just 3.7 percent); and
In terms of liability, 53.9 percent think that vehicle manufacturers are chiefly liable for connected car security, followed by connectivity providers (18.9 percent), application providers (15.6 percent), electronics makers (5.9 percent) and the vehicle owners themselves (5.5 percent).
"While these findings show that we still have a long way to go – in establishing ecosystems, standards, technologies and even regulatory frameworks – there is certainly a bright future ahead. Many consumers are in-principle, very excited about the future of automotive technology, once the security concerns have been settled."
In fact, the majority of respondents (53.7 percent) thought an acceptably secure environment could be created in one to three years.
Security will likely rise to the fore, notes Jacobsz, as one of the key differentiators for automotive players in the future: "To capture the new opportunities, everybody in the ecosystem must come together to deliver on the innovation vision, while ensuring absolute data protection, privacy, and user safety."
Posted on : 26 Oct,2021 | News Source : ABNews
Automart is Africa's leading directory and market news website for the automotive spare parts, automobiles and auto accessories industry | Kenya | Tanzania | Ethiopia