Company List for Car Accessories | Page : 7
Changzhou Guoshi Vehicle Accessories Co.,Ltd.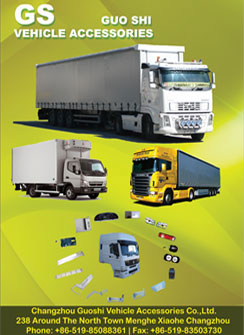 Description:
In Yangtse river delta region, the most energetic economy zone in East China shore, situated a famous cultural city which embraces a history of more than 2500 years. This city has witnessed the establishment of an industrial structure dominant in mechanic manufacture, light industry, vehicle spare parts, timbering and pharmaceutical medicine and has become an integral part of Chinese economy circle closely connected with Shanghai city. It is the city of Changzhou, a new modern industrial city in South Jiangsu Province.
Product Details:
Vehicle Accessories
Inquire
China Hanji Power Co., Ltd.

Description:
ChinaHanji Power Co., Ltd, former ChinaHanji Parts Plant, founded in 1982, Located in DuBin Industrial Estate, Hanjiang District, Putian city of Fujian Province,occupies 10,000 square meters and employs more than 200 people, including more than 40 engineers and senior managers. With 20-year history of development, we are an integrated company in researching & developing, manufacturing and trading fuel pump assembly and its spare parts for motor vehicles.
Product Details:
FUEL PUMP, INJECTOR, ENGINE,spare parts for motor vehicles
Telephone:
86-594-3603380
Inquire

Description:
VE-pump Fatory of Chinahanji, Putian City, Fujian, China is a subplant of Putian City Chinahanji Diesel Oil Injection Corporation, which is a specialized maker of VE-pump and general assembly parts.Early in 1998 the plant began producing VE-pump head and VE-pump elements
Product Details:
specialized maker of VE-pump and general assembly parts
Inquire
Information, Buyers & Projects guide for the Automotive and Spare Parts Industries