Company List for Oil value Lubricants | Page : 8
Gulersan Lubrication Equipment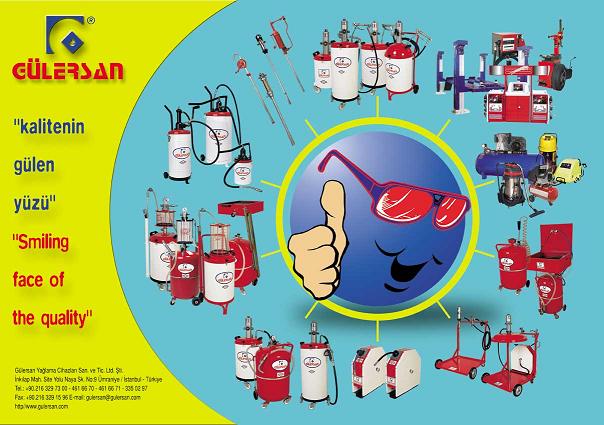 Description:
GULERSAN Lubrication Equipment Industry and Trade Co. Ltd., which was established in year 1983 by Servet GÜLER, having still performed the presidency of management board of our company, within its facilities of 2000 m2 area focused on automotive, construction and liquid fuel sector produces the air and mechanic fine oil pumps, hose reels, oil evacuation system and pumps for absorbing oil from the crankcase. The products that we produce are submitted to the service of the user by means of our dealers across Turkey within our service guarantee. GULERSAN gives 40% of its current production force to all through Turkey and its 60% part is exported to various countries. In the production of the products that we present to the automotive sector which is rapidly advancing, in addition to the quality and use easiness, the time saving from the perspective of the user is also considered. GULERSAN, taking the customer satisfaction as its principle, is attempting to keep its product quality and wide product range at the highest level by improving them by each passing day. The pleasure caused by the added value brought by our firm, which is among the pioneer institutions in the sector by means of Research and Development and technical equipment, to the country economy is our biggest source of inspiration. With our best regards.
Product Details:
lubrication equipment,garage equipment,cleaning equipment
Telephone:
00902166344814
Website :
Inquire

Description:
YUKOIL is the most modern manufacturer of technical lubricants in Eastern Europe that was created in 2002 together with German partnership in the South-East of Ukraine.
A brand new automatic line allows to formulate and pack more than 200 types of high quality lubricants under YUKO trademark.
Since then, the biggest domestic retail networks and numerous national companies such as AutoZAZ, Arcelor Mittal, Interpipe and Metinvest are in the client base of the company.
The expanding export geography for YUKO brand comprises over 20 countries in Europe, Africa and Asia.
The product quality meets the highest international standards.
YUKOIL is the only API licensed manufacturer in Ukraine.
YUKO lubricants have acquired OEM approvals of the leading renowned brands like Daimler, Volvo, Renault, Cummins, and etc.
Product Details:
Motor oils, Transmission oils, Industrial oils, Coolant-lubricants, Greases
Inquire

Description:
Zhejiang Lanfeng Machine Co., Ltd is one of the large-scale manufacturers specialized in developing and producing fuel dispenser ,gas dispenser and all components , the factory occupying total area of 10382 square meters , construction area 8818 square meters , possessing various precise processing equipment and production line 235(sets) formed the yearly production 30,000 fuel dispenser, 100,000sets of various fuel dispenser parts and LPG parts ,provides the whole fuel dispenser and the necessary parts to domestic and international fuel dispenser manufactory and gas station for a long time.
Product Details:
fuel dispenser ,gas dispenser and all components
Inquire
Information, Buyers & Projects guide for the Automotive and Spare Parts Industries