Company List for All Kinds Of Cars / 4 WDs | Page : 1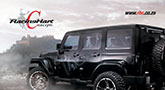 Product Details:
Racing Hart Concepts - extensive range catering for passenger vehicles and SUVís Breyton - made only to fit BMW Advanti Racing Ė formula 1 lightweight technology for your car Wheelpros Ė Rugged SUV and Old School specialists Trafficstar Ė 3-pce Japanese luxury for the discerning enthusiast
Telephone:
+27 11 832 1174
Inquire
Description:
Offering 4x4 cars on self drive safaris in Kenya Tanzania Uganda and Rwanda.
Product Details:
4x4 with camping equipment.
Website :
http//:www.4x4-kenya.com
Inquire

Description:
ARTEKMAK, was established in Izmir, Turkey in 1984. The company manufactures complex and high precision parts for industries such as Automotive, Medical, Aviation, Hand Tools, White Goods, Valves and Misting Systems with its 35 years of knowledge and experience. ARTEKMAK prefers worldwide companies respected with their quality on supplying raw materials, cutting tool, and various consumables. It exports most of its products to Germany. The company is founded in 1984 for manufacturing of small and precision turning parts with Index cam lathes. And today our company produces with Gildemeister CNC two spindle, multi axes machines, with qualified engineers, high precision manufacturing with international ISO 9001 quality standards. The company manufactures parts of √ė4 mm to √ė36 mm and up to 600 mm length for the industries it provides service. The materials it processes are mostly metals and non-metals such as alloy steel, stainless steel, brass, copper, and aluminum.
Product Details:
High Precision Metal Parts
Telephone:
+90 232 254 24 08
Website :
www.arteksan.com.tr
Inquire
Information, Buyers & Projects guide for the Automotive and Spare Parts Industries