Toyota SA reveals its future motoring plans for 2030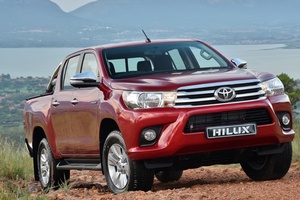 Johannesburg - The biggest brand discusses trends and where the motoring landscape in South Africa is shaping into the future at its first State of the Motor Industry address earlier in August.
If you want to know what the South African motoring landscape might look like in 20 years from now, it makes sense to ask the biggest stakeholder. In the case of all things wheels in Mzansi, that's Toyota.
South African institution
The technology and current product sourcing might be Japanese, but Toyota has the sense of being a South African institution too. It has an enormous production facility in Durban, which builds a great many bakkies, SUVs, taxis and not quite as many Corollas as planned – but also a huge saturation of dealerships.
If there is a single company which truly markets products in the segments which matter to South Africans, and provide acute metrics for market analysis, it's Toyota. From Quantum taxi sales to Hilux bakkies, from Lexus hybrids to government departments purchasing Corollas for fleet use, Toyota's sales and marketing data shows us the trendline to South Africa's motoring landscape of 2030.
Hosting a panel discussion at Toyota headquarters in Kelvin, this week, the new CEO of Toyota South Africa, Andrew Kirby, was candid in his predictions for our motoring future.
Car sharing versus ownership
With many European and North American automotive markets reaching maturity, customers are reconsidering the role of a privately-owned car with respect to their financial wellbeing.
Owning a depreciating asset, which is only used two hours a day, and sits mostly idle, has become notably less appealing in Californian and German cities where public transport is nearly perfected and Uber ubiquitous.
In these markets, the automotive future could be one where one purchases credits in a car brand, and exchanges them for specific product use allocations. Perhaps you need a van for a weekend away. Or a coupe to impress at a social occasion. The South African market, though, is markedly different.
Toyota sees South Africa as being under-mobilised in terms of outright car ownership. There are a great many South Africans who aspire to own a car, but do not have the means and aren't having the best possible public transport experience either.
Those factors generate tremendous future growth potential for new car sales. The vast distances driven in South Africa, makes car sharing an unlikely future scenario – and for many, owning a private car still represents the ultimate in autonomy of movement and freedom/flexibility of schedule.
Autonomous safety, not convenience
Mercedes-Benz, BMW and Audi have all, in the last year and a bit, released products to the South African market which have an untold level of autonomous driving technology. Cars which can 'lock-on' to traffic at highway speeds, and with the driving ceding braking and steering responsibility to the sensors, effectively drive autonomously.
The issue of fully autonomous driving, the promise of that seamless convenience where you board a vehicle which drives you in traffic where you wish to go, without any driver input, allowing the driver/passenger to work or be entertained in-car, is perhaps not a future scenario for South Africa.
Potential problems
An engineer by training, Kirby was curt about the potential problems of running true full level 5 autonomy on South African roads.
Kirby says: "For all the sensors and cameras to work, you need a lot of investment in road infrastructure, and an environment where there are no older technology cars on the road.
"If all the cars have similar levels of sensory technology, able to recognise each other, then it's a harmonised system. It works. But in South Africa, we are still initiating first-time car owners each year, and the price point for autonomous technology cars, are way beyond what most would be able to afford. There is no wishing away of the older cars which serve a valuable purpose for their owners."
This doesn't mean that South Africans won't benefit at all from the global drive to autonomous driving technology.
Kirby adds: "There's a massive, generally unrecognised, benefit – and that is safety. With more cars with radar/sonar guided cruise control and autonomous emergency collision avoidance braking, you can radically reduce accidents."
The themes for Toyota in the next decade and a bit is greater motorisation of South Africa, with an increase in driving safety due to the advancement in driver intervention systems which read the road and other cars on it – such as adaptive cruise control and lane discipline steering correction.